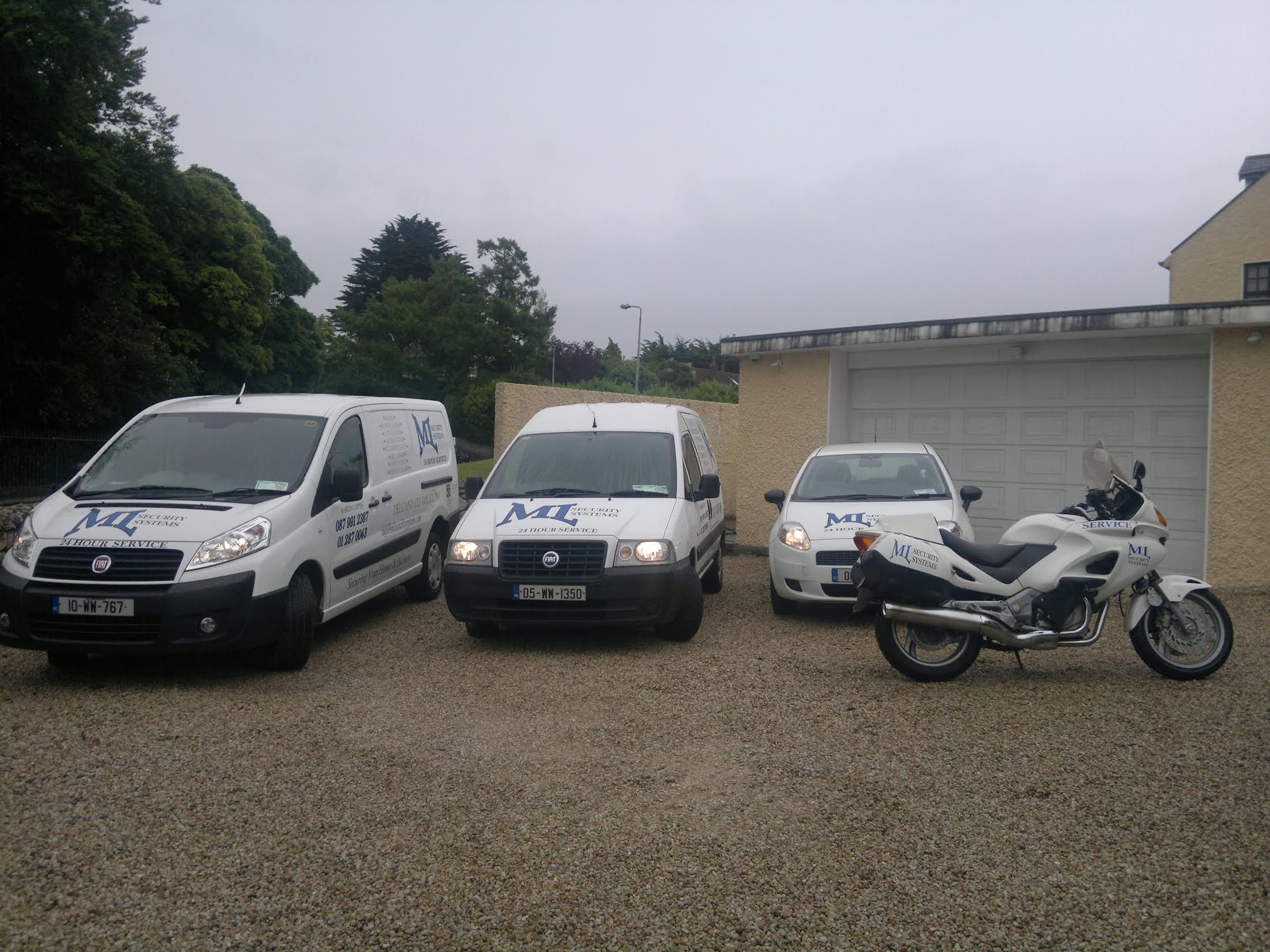 Martin Lappin, owner of ML Security Systems in Delgany,Co Wicklow, and Oulart Gorey Co wexford. The company has been awarded the Private Security Authority's coveted Private Security Service Licence. And the NASI National Standards Authority of Ireland (NSAI), which is now mandatory for all private security companies under the Private Security Services Act 2004.
Although many customers may not be aware of it, the PSA was established in order to regulate and licence the private security industry in Ireland. To this end, it introduced the licensing system, which came into effect on August 1st 2006. This new legislation means that it is illegal for any security company that does not possess a licence to install security system
"Got my wireless alarm installed last week. To say I'm delighted with it is an understatement. Connected to my mobile, which is great-loving the technology. But most of all the knowledge of feeling that bit safer especially with my panic alarm is real peace of mind. Thanks Martin great service"
"Had a problem with my alarm and it was fixed within an hour of a phone call"
"I think they are one of the best alarm company out there always look after u and turn up for appointments"
The Story Behind ML Security Systems
After working in the private security sector for over 40 years, Martin and his team are experts in every area of security. Before embarking on his own business venture, Martin successfully managed a number of private security companies. ML Security, based in Delgany,C0 Wicklow and Oulart Gorey C0 Wexford. was established in 2004, and business has been booming from the start.
Martin's business has grown steadily over the past years, with many new customers receiving recommendations from friends or business contacts who were impressed with the excellent level of service and workmanship.
Martin employs five staff members, all of whom are qualified engineers in their own fields, such as CCTV, Intruder Alarms, and much more. So you can be sure that when you hire ML Security Systems, the job will be carried out by an experienced and trained professional.
The company provides a range of services and products for both domestic and commercial customers including intruder alarms, CCTV, locks, safes, fire alarms, emergency lighting, , intercoms and access. The company also offers a repair service on existing alarms and service contracts on new installations.
ML Security Systems also offer a 24-hour monitoring service, which means that if your alarm is activated, the monitoring station, which is operated by G4S Communications, will contact the key holders and the Gardai. So customers can rest assured that if the alarm in their home or premises goes off, it will be investigated.
Martin prides his business on providing a fast and reliable service carried out by fully qualified, efficient and thorough staff. All jobs are carried out to the highest specifications, and ML Security Systems only use fully approved security equipment. A full twelve-month warranty is also provided with all installations.
Martin personally checks all installations carried out by his staff to ensure that they are of the highest standard. If he is not happy with the finished result, he insists that the necessary changes are made. The customer is also fully involved and informed throughout every step of the process. At the end of every installation, Martin brings the customer around the house to show them exactly what has been done. After both he and the customer sign off on a job, the customer is given a handover certificate.
All Martin's customers have expressed their delight after seeing the clean and efficient manner in which he and his staff operates. Martin and the team are conscious about leaving a customer's home exactly the way they found it. "I treat every person's home the way I treat my own home," says Martin, who insists on cleanliness throughout an installation job. "We vacuum rooms as we work, so that the dirt isn't carried back and forth. We also put all the furniture back exactly the way we found it."
There are many different security products on the market, and deciding which one is right for you can sometimes be a daunting prospect. But the team at ML Security Systems make it easy for you. Before starting a new job, a staff member will call to your home or premises and do a survey. After deciding on what product would suit your needs best, they forward a specification of the job to their customer for his/her approval, ensuring that they are aware of exactly what needs to be done. After seeing and approving this, the customer then signs an acceptance form and the job is booked in.
The PSA was established under the auspices of the Garda Siochana, and the Gardai vet each company and staff member prior to granting the PSA licence. ML Security Systems was one of the first companies in the county to be granted this licence, which means that every customer can be safe in the knowledge that the company is reputable, trustworthy and meets all the necessary standards.
Under the new legislation, it is now an offence for any security company without a licence to provide a security service. In fact, if a household or business is found to have a security system that was not provided by a licensed company, they will face prosecution or a fine. So it is in every customer's best interests to ensure that they only employ a reputable company, such as ML Security Systems, that has the relevant licence.
ML Security Systems is also a member of the National Standards Authority of Ireland (NSAI), and was granted a licence to use the Irish Standard Mark on their intruder alarm scheme. Martin stresses that this licence is only obtained by demonstrating the highest safety and customer requirements. The NSAI staff also carry out rigorous inspections on a regular basis ensuring that the highest standards are maintained.
Martin and his staff understand that security is not a nine to five job, and they are on call and available 24 hours a day, seven days a week. They also realise the importance of getting the job done quickly, and do their best to repair breakdowns that day. If you have a query about getting a product installed, Martin will call to your home or premises and see what needs to be done before booking the job in.
"We are delighted to be one of the first private security companies in Co Wicklow to be awarded the PSA licence," says Martin. "All the team at ML Security Systems are dedicated to achieving the highest standards in the installation, maintenance and repair of security systems for all our customers, no matter how big or small the job is."
Martin and the team at ML Security would also like to extend their thanks to all their supporters.
ML Security Systems, Hillside Cottage, Delgany, Co. Wicklow. And Oulart Gorey Co Wexford. Phone: Co Wicklpw, 01-2870043 Co Wexford 053-9136066 24hr Emergency Tel: Mob: 087-9912387 Pager: 01-2093555 Email: martin @mlsecuritysystems.com